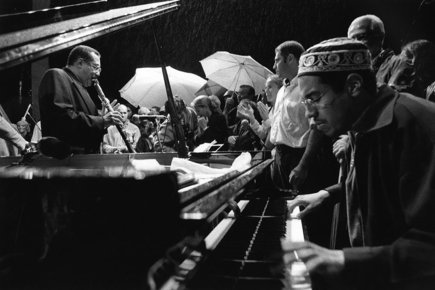 D'Rivera and Danilo Pérez
Tambo is a Spanish term for dairy farm, and Tambo el Sosiego has to be the most jazz-friendly dairy farm on earth. It is part of Lapataia, which also contains a restaurant and ecotourism activities that make it a popular stop for vacationing South American families. Francisco Yobino, the owner of Lapataia, is a serious jazz fan who has covered the restaurant walls with photos of his favorite artists, and who plays serious jazz (like Coltrane's Crescent) when he milks the cows each days. Since live jazz featuring internationally recognized musicians is as rare in Uruguay as it is on most farms. Yobino decided to launch a festival in 1996. He chose the first weekend in January, the peak of the summer season in the nearby beach resort Punta del Este, and he named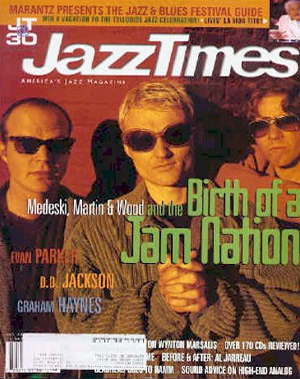 Paquito D'Rivera the permanent Artistic Director. Jazz "en el Tambo" remains a modest enterprise compared to many more established festivals, yet its fifth edition indicated that it is already one of the most enjoyable, and has the capacity to grow further. The music takes place over four evenings, giving fans full days to spend on the Punta del Este beaches, and programming of no more than three bands per night allows each ensemble sufficient time to get its music across. Yobino constructed a 700-seat outdoor performance space two years ago, after holding his initial festival in the restaurant, and now the bands blow in front of a pasture of grazing cattle. D'Rivera, who serves as master of ceremonies throughout, deserves accolades for the quality and imagination displayed in programming established bands, new units and local (i.e. South American) musicians. Unfortunately, we arrived the morning after the opening concert, in which D'Rivera's impressive quintet (including tumpeter Diego Urcola, pianist Darío Eskenazi, bassist Oscar Stagnaro and drummer Mark Walker) played an evening of Ellingtonia wrapped in Afro-Latin Rhythms. D'Rivera was quite proud of the results, and several fans also indicated that the program had been a major success. Urcola and Eskenazi stuck around and opened each of the subsequent concerts with a spry quartet where the rhythm section was completed by electric bassist Federico Righi and drummer Osvaldo Fattoruso. A typical set found Urcola blazing throug Jimmy Heath's "A Sound for Sore Ears" and an original, Eskenazi featured on a ballad, D'Rivera adding his gorgeous (looking and sounding) clarinet to the rhythm section for "Corcovado", and Urcola returning with fellow Argentinian Oscar Feldman on alto sax for a strong "What is This Thing Called Love?". Terence Blanchard, Michael Brecker and Phil Woods, the three leaderrs who brought established bands, impressed despite personnel substitutions. Woods, who had played in nearby Montevideo with Dizzy Gillespie's big band 44 years earlier, had Bill Mays subbing on piano in addition to regulars Brian lynch, Steve Gilmore and Bill Goodwin. The quintet delivered its usual mix of modern classics (Bud Powell's " Strictly Confidential", Johnny Carisi's "Israel", Woods' own "Goodbye, Mr. Evans") and new originals by Lynch and Jim McNeely. Blanchard's talented young sextet, with the wellmatched saxophone team of Aaron Fletcher on alto and Brice Winston on tenor and the energetic rhythm work of bassist David Pulphus and drummer Eric Harland moved throug the diverse moods of the trompeter'new Cd, with pianist Billy Childs more than impressive as a last-minute sub.
Since organist Larry Goldings from the current Brecker group was in New York awaiting the birth of his first child, the tenor saxophonist convened his previous quartet for the concert. Not only did pianist Joey Calderazzo, bassist James Genus and drummer Jeff "Tain" Watts sound right at home (as well they might, since Calderazzo and Watts still play together with Branford Marsalis), but Brecker delivered one of his most magisterial performances, with unaccompanied stretches on "Delta City Blues" and "Round Midnight" that whetted the appetite for more of his solo work.
Eddie Monteiro had moments of going overboard with the effects available on his accordion, yet his set also featured effective duets wtith D'Rivera on both alto and clarinet, and a quicksilver reading of the D'Rivera staple "Estamos Ahi" where the pair were joined by Brazilian vocal great Leny Andrade. (The singer also presided at the restaurant each evening after the concerts, and again proved to be the one of the supreme jazz voices in any laguage) The Billy Childs/ Buster Williams/ Carl Allen trio balanced heated interaction, subtle detail and strong melodic invention (especially Childs on "Cristina" and Williams on an unaccompanied "Summertime") to an even greater extent than on their recent Metropolitan CD, Skim Coat.
He hit of the festival was a unit created specifically for the occasion. Renee Rosnes, John Patitucci and Terri Lyne Carrington combined for truly driven, complexy charted readings of standars like "Summer Nights" and "If I Were a Bell", then were joined by Regina Carter for a whiplash "Tico Tico", a funky "Imagine My Frustration" a heartfelt "Don't Explain" and Kenny Barron's celebratory "New York Attitude". The Rosnes/ Patitucci/ Carrington trio also supported Benny Golson (another alum of the '56 Gillespie tour) in a set highlighted by Rosnes' rhapsodic intro to "Are You Real?" and a fierce Golson/ Carrington duet on "Stablemates". Add the excellent sound system, a respectful and responsive audiance, an efficient festival staff, a great post-concert dinner hang at he Lapataia restauran and complimentary champagne between concert sets and you get an annual event just waiting to be discovered by the wilder jazz world.