The Festival's Creator and Producer, the unstoppable Francisco Yobino, and Musical Director, the internationally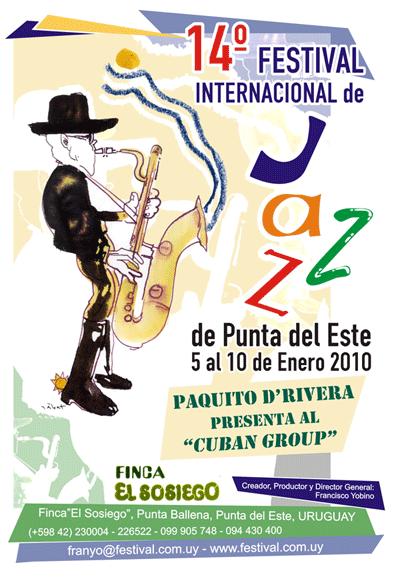 acclaimed Paquito D'Rivera, (straight from his performances at New York's Lincoln Centre), scored a winning program reflected by the enthusiastic reception of an audience visiting from all parts of the globe.
The jazz lovers that come to this summer Festival have the rare opportunity of participating in a unique musical and ecological experience as it is set amongst the serene and natural beauty of the Uruguayan countryside, allowing you to share incredible sunsets that surrender to a sky, (and stage), full of stars.
This year's program opened with "The Night of Brazil" presented by the Delegation of Brazil to Mercosur, and featured the Benjamin Taubkin Trio with guest vocalist, the talented Tatiana Parra, followed by the Hamilton de Holanda Quintet.
The Sunday finale was a Cuban Jazz celebration of Benny Goodman – "The King of Swing" presented by Paquito D'Rivera on saxophone & clarinet, joined by Dave Samuels, Alex Brown, Eric Doob, Richard Padrón, Charles Flores, Pedro Martínez, and Walter Castro.
This year's other guest musicians included: Benjamin Taubkin, Sérgio Reze, Zeca Assumpção, Joatan Nascimento, Hamilton de Holanda, André Vasconcellos, Daniel Santiago, Gabriel Grossi, Marcio Bahia, Franco Luciani, Abel Rogantini, Javier Martínez, Paul Dourge, Mavi Díaz, Niki Harris, Helen Sung, Grace Kelly, Katie Thiroux, Terri Lyne Carrington, Darwin Silva, Martín Pugin, Benjamín Barreiro, Miguel Romano, David Williams, Joe Farnsworth, David Hazeltine, Grant Stewart, Xavier Davis, Dwayne Burno, Quincy Davis, Diego Urcola, Grant Stewart, Alex Brown, Pipi Piazzolla, Popo Romano, Oscar Feldman, Diego Urcola, Niki Harris, Helen Sung, Grace Kelly, Katie Thiroux, and Terri Lyne Carrington.
Don't miss a beat! Obtain more information and register for the 2011 Festival at: www.festival.com.uy